COMPLAINING ABOUT SORE SHOULDERS? DO SOMETHING ABOUT IT! FOAM ROLL AND STRETCH!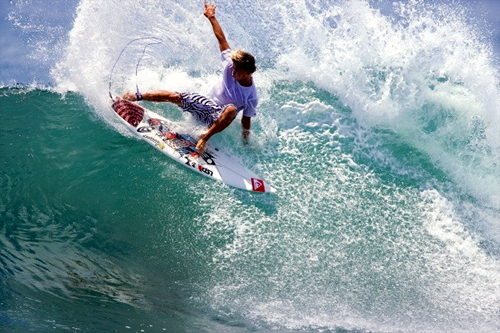 Surfer's shoulders: If your shoulders are aching, your water-time is going to be limited. Check out that pic of Juilian Wilson. Very dynamic shoulder movements going on there, and the only way those movements are happening is due the surrounding tissues allowing that motion.
If the tissues surrounding your shoulder are tight, and you go into extreme movements like the one above, or even during a burst of paddling, tissues will become compressed and potentially severely stressed, which can quickly turn into shoulder pain. And your ass sitting on the couch instead of the water.
You've got to combat sedentary postures, keep your spine mobile, and keep that tissue from internally rotating your shoulders.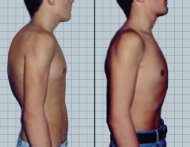 The pic on the right, (left figure) shows some pretty severe thoracic spine kyphosis (something you don't want, but get from too much computer time). And this sets up the scenario for lots of shoulder dysfunctions.
Correct that joint offset with spinal mobilizations, and tissue work on the muscles pulling you into that no good posture. Crappy posture isn't too good looking anyways.
Foam Roll and stretch your lats, and start releasing Pectoralis major/minor, and Anterior Deltoid with some Tennis Ball love.
What's relevant about these muscle groups, is that through their insertions and origins, (where they attach to bone), they are able to excessively internally rotate and protract the shoulder/scapula, which can really contribute to shoulder dysfunction.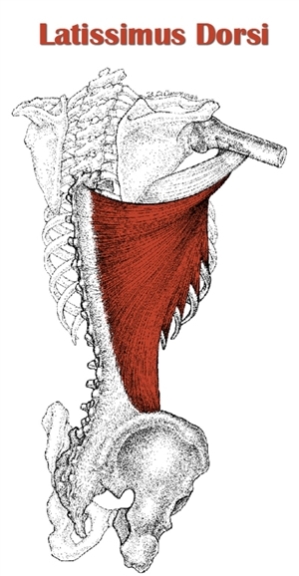 It basically starts to shrink some of the space within the shoulder joint. You start getting compression in the subacromial space and tissue starts getting upset.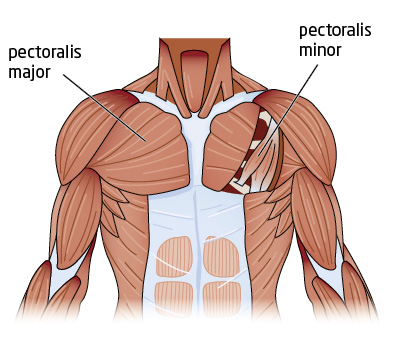 Think of it as muscles pulling the joint out of proper alignment. And just like a car tire, when it's out of alignment, things get rough, piss you off, and then cost some money.
So release these tissues! Watch the video, get to work, and get into the water doing what you love.
-Cris Mills
DO YOU WANT TO LEARN MORE STRETCHES AND EXERCISES TO GET OUT OF PAIN, GET STRONGER, AND IMPROVE YOUR SURFING?
If you think your body and your surfing could use more of this, more stretches, more detailed descriptions of exercises, and more training ideas, check out SURF ATHLETE TRAINING PROGRAM.
This all- inclusive surf fitness training program gives you everything you need to restore flexibility, get out of pain, get stronger and faster. And train to improve you surfing… smartly and efficiently.
Restore proper posture and flexibility, develop stronger and more powerful legs, quicker pop-ups and explosive core training.. all the goods so you can surf as much as you want to when you get the chance to hop in the ocean.