IMPROVE YOUR SURFING
If You Want Expert Insight to Improve Flexibility, Detailed Stretching Techniques,
and a Method to Stay Out of Pain, This Program Will Give You the Tools to Do That.
Improve & Restore
Dynamic Flexibility
Target Key Areas of
Tension & Limitation
Help Eliminate
Pain and Stiffness
Here's What's Included in Surf Training Success…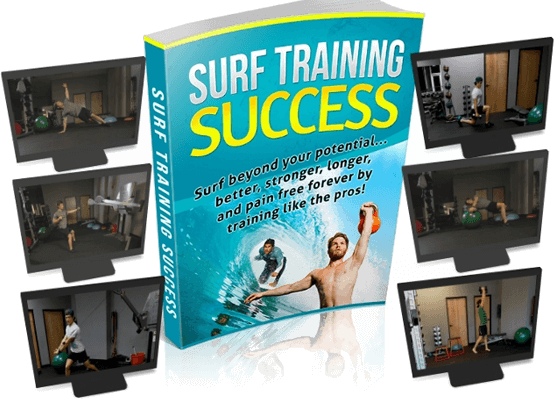 6 Full Step-by-Step Workout Videos
There's nothing worse than trying to get a good workout, and forgetting how to do a movement properly…. because if you're not performing it properly than you're putting yourself at risk for injury and not getting the functional carryover to surfing!

These Exercise Picture Manuals are another guide to ensuring you perform every single workout as perfectly as possible, and take all the confusion out of your training. Here's What You Get…..
6 Exercise Picture Manuals… 1 for each of the 6 Workout Programs
These Manuals follow along exactly with the Workout Program layout, and coincide with the Exercise Templates.
Photographs and Descriptions of Every Single Exercise, Movement, and Stretch within the training programs.
Easy To Print Manuals for Quick and Easy reference. Take them with you to the gym or print them out for use at the house!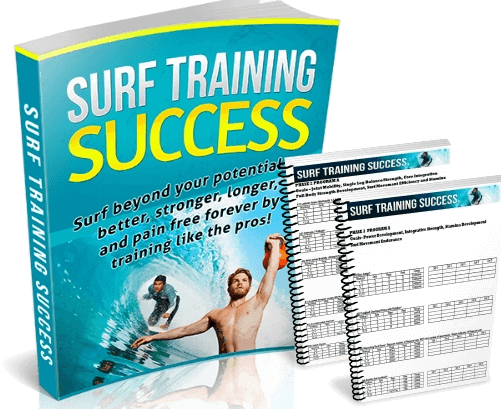 Surf Training Success Workout Templates
These are the tools that guide your workouts, track your progress, and remove the guesswork from your workouts. Have confidence knowing you are doing the best possible workout..

You'll recieve 6 Professionally designed Workout Templates. These templates are designed to be printed out, and used to guide you through this surf-fitness program. I give you one Workout Template for each of the 6 Surf Training Programs within Surf Training Success.

These Exercise Templates give you all the Highly Important workout details for every single workout, including the Critical Details of a workout that Dictate how your body specifically benefits. Training for endurance is far different from training for strength or power, so stop making those mistakes!
Specific rest periods between each exercise to optimize your gains in strength, stability, and power.
The correct number of repetitions for every single exercise. If you're just performing 10reps for every exercise, than you're wasting your time in the gym.
Track your progress on these templates… you need to be tracking your progress to get the most out of your training, these are a must-use!
They give you the structure and layout of the workout so you don't waste time with improperly designed workouts. It's all here for you to simply follow and start massively improving your surfing!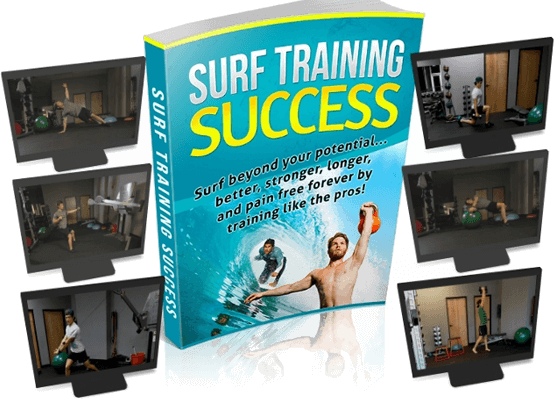 6 Full Step-by-Step Workout Videos
Phases of training are critical to focus on specific training goals and laying the foundations for you to be a better surfer. Each of the 3 Phases of training has 2 Full Workout Programs, so you can alternate programs and develop an athletic surf-body as quickly as possible.

Each of the 6 Workout Programs has a Complete, Step-by-Step, Follow-Along workout video, that guides you through the entire program. I give you the specific details of every single exercise, stretch, and movement, as well as directions on how to maintain proper form, and variations of each movement.

It's as if I'm training you one-on-one, but without the price tag that would buy you a new surf-board. These videos take all the guess work out of the program, and make sure you are having the best possible workout, every single time.
The Entire Program
- Only

$

37.00 -
Get Started Today
START NOW
But There Are Still More… These Are the Secrets that I've Learned From Working For Years With the World's Leading Fitness and Rehab Professionals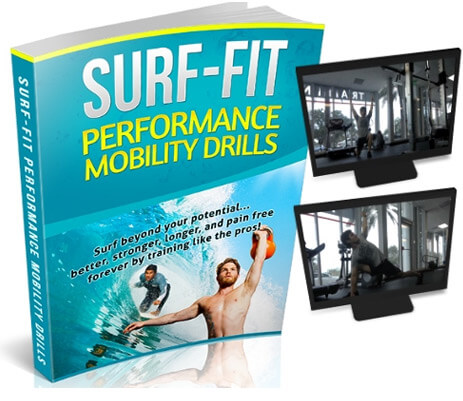 Surf-Fit Performance Mobility Drills
Slow Static Stretching is likely slowing you down in the surf… Learn the industry secrets to creating fluid movement and full body dynamic flexibility.
Discover how to release areas of tensions with movements that create full-body flexibility and forget the old-school static stretching.
Get rid of tightness.. if you're tight, your movements in the surf are restricted and not nearly as fast as they could be!
These 7 mobility drills improve joint specific areas of tightness that are common to most surfers, and promote serious injury… become more injury proof, cause getting hurt just plain sucks!
Get your body moving! This is an ideal pre-surf warmup, and one of the best ways to prepare your body for a workout or surfing.
Restore your mobility that you had when you were a grommet, and rebuild a body that can move painlessly and effortlessly!
Surf-Fit Recovery Secrets
You've Got To Have Healthy Muscles and Tissue… Find the Secrets to Innovative Do-it-Yourself Soft-Tissue Work, so You Can Deal With Your Own Aches, Restore Lost Movement, Open up Restricted Joints, and just Feel Good!
Learn the Secrets to Recovering Faster between Heavy Surf Sessions These methods can help eliminate hip, knee, back, and shoulder pain!
Discover how to treat the bottom of your feet which can help combat knee injuries and back pain!!
Find the best methods of accelerating your progress in the surf and your fitness, while also drastically improving the way your body can move!
These Secrets take only a few minutes a day, and can have such dramatic impact, that I myself, and every single one of my private clients do this!!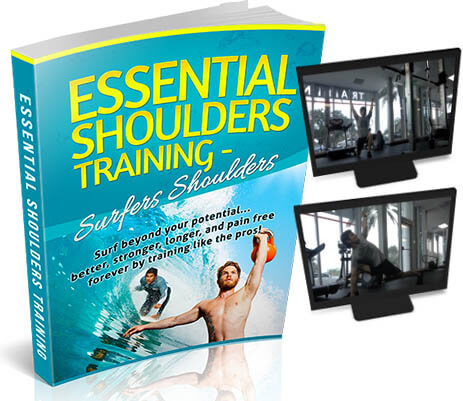 Essential Shoulders – Surfers Shoulders
Face it, if you're shoulders are giving you issues, can you ever really get the most out of your surfing? …. Nope! A healthy, strong, and mobile upper body is absolutely necessary to paddle as long and hard as you need to, and to just enjoy being out in the surf.
Discover the 5 Key Steps to Building a Dynamic, Strong, and Durable Upper Body
Learn professional techniques to treat your own shoulder aches and quit forking out money to sub-par massage therapists!
Find out how to improve the way you breathe!!!… this can have tremendous impact on proper shoulder function!
Find out how to improve the way you breathe!!!… this can have tremendous impact on proper shoulder function!
Start using Muscle Activations to wake up "lazy" and "shut-off" muscles around the shoulder joint that are chronically weak on 85% of my clients.
Do Your Surfing and Body a Favor…
Let's Get Started Today!
Only $37.00 for a Limited Time
BUY NOW
2 FREE BONUS VIDEOS
When You Start Today
60-Day Money Back
Guarantee
Instructional Videos
& PDF Manuals
WHAT TO EXPECT
Over 2.5 hours of Instructional Videos and PDF Manuals
Learn How to Restore, Improve, and Maintain Athletic Flexibility
Improve your surfing forever! This Program Will drastically change the way you move
Improve Your Posture, Help Reduce Joint Pain, and Just Move Better!
With 10-15minutes Per Day, You Can Drastically Improve Your Movement Ability
A Systematic Approach to Quickly Increase Your Flexibility, Undo Chronic Tensions, and Eliminate Pain
Meet The Guy Who's Trying To Help Your Surfing…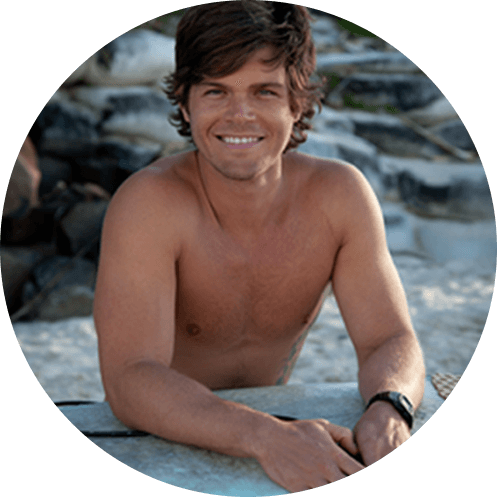 Cris Mills
Performance Coach, Massage Therapist, CHEK Practitioner
My name is Cris Mills, I operate Surfstrengthcoach.com, and work with people that want to improve their health, movement, and performance, and it's usually so they can surf better. On a daily basis I help people and surfers train from rehab to performance. I know what a surfer needs to do to keep themselves in the ocean, and have been spreading that information through my various work online.
mproving your surfing requires improving the foundations of movement and athleticism. Flexibility is a key part of that process. I wanted to give surfers an easy resource to improve their flexibility, help to eliminate pain, and simply move and feel better.
urfing in pain sucks as well, and I've done it, and I'm sure most of you have as well. Surfers, athletes, people, we all need to work on body maintenance, and help keep ourselves out of pain. This program will help teach you how to do this.
I aim to change the way physical preparedness is dealt with for surfing, and combine everything I have learned, and continue to learn, to help improve surfers body so they can stay involved with the ocean.
The Entire Program
- Only

$

37.00 -
Get Started Today
START NOW