A 12 Week Follow-Along Program Designed to

Enhance Your Surfing
Eliminate Surf-nagging Aches
No Matter Your Age or Skill level.
The Surf Athlete Program Will
Radically Enhance

Y

our Surfing by Improving Your Body
Whatever Your Age, Whatever Your Skill, You Will
Improve Your Surfing
Move Fluidly, Athletically, & Powerfully.
Build dynamic strength & endurance that carries over to your movement in the ocean.
Prepare your body for what your surfing & the ocean demand.
Workouts and Stretch routines that help you move like a surfer needs to.
Build a stronger and more mobile body so you're not limited in the surf.
Improved endurance, shoulder health, dynamic flexibility, core strength, and more.
You're a
Surfer


So You Are an

Athlete


No Matter Your Age or Skill
Discover a Surf-Specific Training Program that Builds "

Surf Athleticism

"
Enhance Your Surfing & Unlock Your Potential by Building a Body That
Surf fluidly, and powerfully without bodily restrictions.
Spend more time in the water and catch some more waves!
Work on the Skill & Art of Surfing more easily when your body isn't limited, take the brakes off your surfing.  
Proven powerful exercise deliver noticeable results in less time
Improve
Your Surfing

by Building the Foundations that Surfing Requires from

Your Body

.
Skill & Art of Surfing
Endurance, Flexibility Strength, Power, Durability
Joint Mobility, Breath, Mindset, Health

Better surfing is built with time in the water, developing the Art & Skill of Surfing. This is technical and coaching aspect of surfing.

Strength, Power, Endurance, & Flexibility are the base that allows you to effortlessly work on the "skill" and technique of surfing.

The Fundamental requirements for the body so that it can function optimally in the ocean.
Is Your Body Holding Back
Your Surf Progression

?
Discover a training program that builds, improves, and restores surf athleticism. Fluid, strong, powerful movement capacity...so you can surf!
Workouts, flexibility routines, and more, to enhance or restore your ability to move in the manner a surfer needs to.
Build strength & fluid power that carries over to the surf. Develop a body that can gracefully work on the skill & art of surfing.
Highly Effective Training
That Delivers Results You'll Feel in
the

Ocean.
FUNDAMENTAL SURF
MOVEMENT PATTERNS
FUNDAMENTAL SURF
PATTERNS & MOBILITY
SURF STRENGTH
MOVEMENT DEVELOPMENT

Phase 1 is focused on building a solid base. A foundation of basic control, strength, and mobility, setting up the body for increasing demand and dynamic training in later stages. You'll lay down the needed strength around the hips and core for durability and injury prevention.
You'll work on increasing range of motion in the spine, shoulder, and lower body to begin freeing up your movement so you move fluidly in the ocean. You'll start building the foundations of strength in the movement patterns that truly carry over to your surfing. Get through this phase to build the base for the next stages of training that you need to get to!
Phase 2 pushes your body into new levels of strength, flexibility, and dynamic training. These workouts train your body for the demands of what progressive surfing requires. A strong and mobile lower body, durable shoulders, a dynamically strong core.
You'll train along with these workouts and stretch routines, and immediately understand how it will directly improve your surfing. Upon completion of Phase 2 you'll be at new levels of movement and surf specific strength, and completely prepared to dive into Phase 3.
As soon as you feel the first workout, you'll immediately know why you had to get to Phase 3 of the Surf Athlete Program. No matter your age, or skill level of surfing, these workouts prepare you for decades of surfing, and will completely take the brakes off your surfing.
This is the type of training that anyone who surfs should be capable of. You've progressively built your body over the last few phases of training to get to this point. Move, jump, pull, spin, lift, push, and do it all dynamically, the way a surf-body needs to.
The Entire Program
- Only US$127.00 -
Get Started Today!

-THAT'S LESS THAN US$11 PER WEEK!-
Would a
stronger & more flexible body

help you to enjoy your time in the ocean?
Get the most out of your time and effort towards improving your body.
Train using professionally designed workouts so you truly benefit & improve.
Build fitness that carries over to how you feel, and how you move in the surf!
Click on the buy now button, go through payment gateway and don't forget your user and password!
Log in to our platform
Log-in with the credentials typed to access the purchased program on our online platform.
Follow and schedule your training

Work hard using our platform and after 2 cycles you will see a body change and a surf change.
Enjoy & sustain the results
Yeah! Once you have achieved some results, don't give up. Sustain the great work and surf better!
Your Benefits with

Surf Strength Coach
With your digital coach, discover how to train efficiently and effectively with methods that truly carry over to your life, and your time, interacting with the ocean.

Professionally designed programs at your fingertips. Train anytime and anywhere.

Workouts for beginners and advanced trainees, no matter your age or skill level.
In 12 weeks you will feel and move the way a surf-body truly needs to. Improve your body so you improve your surfing.

Lifetime access to all the Training, all the Workouts, and all the Stretch Routines.
WHAT YOU WILL NEED
TO TRAIN
Elastic Resistance Bands

Olympic Rings or Suspension Trainer
Exercise Ball (inflatable)
Foam Roller or Tennis Balls
A few Dumbbells or Kettlebells
Why Is Equipment Required?
There are basic equipment requirements for this training program, but with these basic tools you'll be able to train effectively for years to come. To train efficiently in the movement patterns that carry over to surfing, applied resistance is required. Take paddling for example, it's a pulling movement, so various forms of pulling need to be trained to develop endurance and durability.

A set of Olympic Rings, elastic resistance bands, or some light kettlebells will allow for a vast array of pulling exercises to ramp up your paddling endurance. Much of the Rotational Core work requires either an Exercise Ball or Resistance Bands. Developing strength and power for the lower body requires the addition of resistance so a Kettlebell becomes quite beneficial.

Training with weights or resistance won't make you into a meathead or overly bulky. What it will do is help you to develop a stronger and more capable body. If you don't have all the equipment right away, no worries. For nearly all exercises there are alternative movement options if you don't have that particular piece of equipment
Breath. Vital to life, and when used efficiently, a valuable tool to influence human physiology, health, and performance.
I want you to understand the fundamentals of breath-work. I want you to know how to utilise and implement breath-work to promote performance, recovery, and mental calm. As with anything regarding the human body, it mandates consistency.
Consistency of application to not only learn how to breathe "effectively", but to personally feel how your body responds to the varying practices.

The methods I will teach you are only a small, yet valuable portion of the breadth of breath-work protocols. What you will shortly learn are the methods I personally use and have used with clients to great success. Apply these methods to your life, your surfing, your training, and your recovery.
Most of your time in the water isn't spent surfing, it's spent paddling.
For individuals that don't surf frequently, the inherent physical requirements of surfing (being mostly paddling), cause quick fatigue and potential frustration. I want to help you build your "work capacity".
Your ability to sustain long duration paddle outs. The ability to move those arms, a lot, duck dive, hold your breath, and then keep paddling. These workouts will focus on not only creating a more robust and durable upper body, but also help to give you a buffer of endurance and paddling capacity.
I am loving the program. Your videos are easy to understand and the workouts are extremely fun. I find myself always challenged and never bored with them. Thank you for your creation!
Seriously dude, your program is life changing. I'm finally getting strong enough to really enjoy surfing and not to be a 'delicate girl'. And I don't have to listen to people who say that moms can't surf!
Frequently Asked
Questions
This training will enhance your durability, promote injury prevention, and introduce high level dynamic training.
You're climbing the skill ladder of surfing, and the last thing you want is for your body to limit your progression. Improve your flexibility, enhance paddling endurance, and build strength so you can effortlessly work on the skill of surfing when you get in the water.
You need time in the ocean, and as much time on the wave face as possible. If you've started surfing you've felt the physical demand required from the body. This program will build the fundamentals that a surf-body requires. Get in the water and rest assured you'll be able to surf as long as the waves permit.
Have you already been working out?
Perfect! This program will show you what high-quality training for surfers truly looks like.
This workout will guide your understanding of "surf fitness" for years to come. As you complete all 3 Phases (12 weeks) of training, you'll come away with a thorough understanding of dynamic exercises that you will implement for as long as you surf.
Have you never worked out before?
That's perfect! You're a blank slate, so this program will teach you efficient and effective methods of surf specific training.
The program will give you exercise regressions, smart starting points, and teach your perfect technique. You'll learn exercises and movements that you can use for the rest of your life.
Online
Surf Training Workouts
for
less than a fitness class a week
Surf fluidly, and powerfully.

Spend more time in the water.

Enhance your surfing by Improving your body
MEET THE GUY WHO'S TRYING TO

HELP YOUR SURFING

…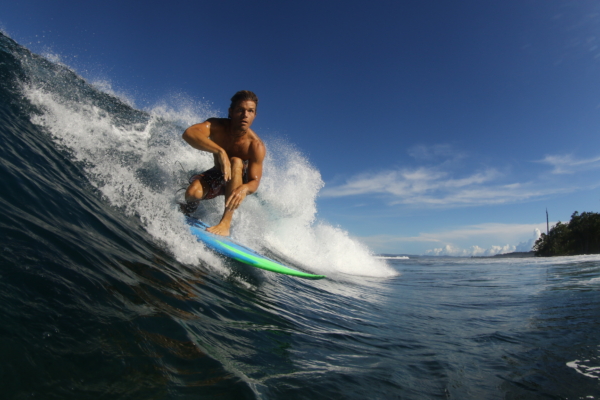 Performance Coach, Massage Therapist, CHEK Practitioner

My name is Cris Mills, I operate Surfstrengthcoach.com, and work with people that want to improve their health, movement, and performance, and it's usually so they can surf better. On a daily basis I help people and surfers train from rehab to performance. I know what a surfer needs to do to keep themselves in the ocean, and have been spreading that information through my various work online.

Improving your surfing requires improving the foundations of movement and athleticism. Flexibility is a key part of that process. I wanted to give surfers an easy resource to improve their flexibility, help to eliminate pain, and simply move and feel better.

Surfing in pain sucks as well, and I've done it, and I'm sure most of you have as well. Surfers, athletes, people, we all need to work on body maintenance, and help keep ourselves out of pain. This program will help teach you how to do this.

I aim to change the way physical preparedness is dealt with for surfing, and combine everything I have learned, and continue to learn, to help improve surfers body so they can stay involved with the ocean.