PALEO PANCAKES, AND SOME NOT QUITE PALEO PANCAKES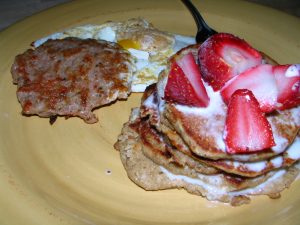 There's something about americans and pancakes.  We love them, I know I sure as hell do.  But when you take a look at what the average american pancake is made from, it's basically garbage.  Absolutely non-healthy ingredients, all helping you get on track to be an overweight diabetic american.  God Bless America.  Seriously, an average pancake batter recipe is probably something like this: bisquick (white flour and a bunch of preservatives and flavoring), pasteurized skim milk, and some low quality commercial eggs.  There is nothing nutritous about the previously mentioned foods, and all you are probably getting out of that meal is some long term digestive system issues, and some huge spikes and crashes in blood sugar.  Awesome, but not really.  So make some bad-ass nutritious pancakes.  Here's a basic recipe, then I'll throw my spin on it.
Quick Paleo Pancakes
1/2 cup almond butter (if you're not die-hard paleo, you can go with peanut butter, but opt for organic)
1/2 cup applesauce
2 eggs
pinch of salt
cinnamon / vanilla extract to taste
-mix up all the goodness!
cook in Coconut Oil
You'll have to play with the consistency a bit, by adding more almond butter to thicken it, or some ground almonds or other type of nut.  Pretty good, and REALLY healthy.
So, now for my tweaked version of these pancakes….. yeah I hook it up pretty serious.. pancakes, no, they're Radcakes
1/2cup applesauce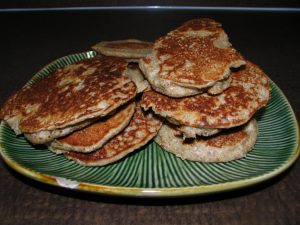 1/2cup almond butter/ peanut butter
2 eggs
bit of canned coconut milk (the thick stuff, and yes, there is saturated fat, and it's wonderful)
coconut flour, or almond meal, or buckwheat flour (no specific amount, maybe 3 tablespoons, I add a bit and check batter consistency, add a little more if necessary)
pinch of sea salt
nutmeg, cinnamon, and vanilla extract
**you can also mash up 1/2 banana into the batter….  yes, it's awesome, or some blueberries, or shredded apple
– mix up the goodness and start cooking.
Cook them up in some real grass-fed butter, or coconut oil.  I find the addition of some type of gluten free flour, or grain free flour (coconut flour, almond meal), really helps to give it the "soft" pancake texture you grew up with.
Give these a go! We all have those cravings for the garbage we used to eat, so satisfy that craving with something that you're body can benefit from, and stay away from the bisquick, skim milk, diabetes, high blood pressure, and chronic disease.